Prof. Meoli Kashorda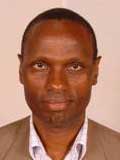 Prof. Meoli Kashorda is currently the Executive Director of Kenya Education Network, the Research and Education Network of Kenya (www.kenet.or.ke) and a Professor of Information Systems at the United States International University, in Nairobi, Kenya (www.usiu.ac.ke). His research interests are in the area of ICT readiness indicators and frameworks for developing countries, ICT adoption and innovations in higher education and business, Mobile commerce, and telecommunications regulations for development.
He previously served as the Dean, School of Business, USIU, for six years, has taught different ICT courses in different Kenyan universities for over 20 years, and has been a consultant for UNECA and UNESCO in the areas of ICT in trade and development, Mobile commerce, ICT in education. Prof. Kashorda served as the Vice Chair on the Task Force that developed the Kenya University Education Strategy with a focus on ICT, Science and Engineering. He has a B.Sc. in Electrical Engineering from University of Nairobi and PhD in Electronic Systems in Engineering from Essex University in England. He is a member of IEEE and IET.