You are here
Digital Learning In Africa
University enrollment in Africa is at a meagre 7%. However, with the burgeoning African youth population of over 200 million, it is no wonder that African Universities recruit too many students. Although pedagogy and learning still takes place, the possibility and realism of digital literacy is a question on its own. Despite the obvious digital divide, African countries and developing nations find ways to achieve the potentials of digital learning like their developed counterparts.
For digital literacy to take place, both the instructor and learner need to be digitally literate. Technology in education is said to be used broadly in presentation, demonstration, drill, practice, interaction, collaboration. In fact, over 87% of students learn best through visual and tactile modalities. However, students lag if the teachers do not engage all resources available to enrich their education experience. It is proven that when teachers are digitally literate, higher order thinking skills become evident in the students as most prefer blended courses. Technology in education can also provide opportunities where none existed.
Universities in Africa have the basic requirements for digital learning to take place, such as Internet access, ICT policies, and capable instructors. However, some constraints remain making it difficult to fully evolve to digital learning. For instance, the Bring your Own Device (BYOD) has not fully taken ground in all Universities, because not all students can afford to buy a laptop. Although the BYOD strategy is cost-effective and allows student to focus on actual learning and not just learning to use their device, Universities offer computer labs as an alternative- which also enhance learning (after class).  Locally developed content is also very little though some measures have been taken in digitizing the curriculum and lecturers still find ways to integrate technologies in their lesson delivery.
Strides have been taken by both the Government in ensuring that ICT is used to maximize educational outcomes. In fact, 92% of government decision makers across Africa admit that e-learning is important in education. Higher Education Institutions are also stepping up in integrating technology in education. For instance, most Universities in Kenya have an e-learning policy and working system in place. Open Distance and e-Learning (ODEL) programmes are increasingly being offered in both public and Private Universities in the Country. An example of an Institution which institutionalized a working e-learning system is Kenyatta University which launched its Digital School 4 years ago. Backed by high speed bandwidth from KENET, the University currently has set up 8 digital school centers with almost 10,000 online students.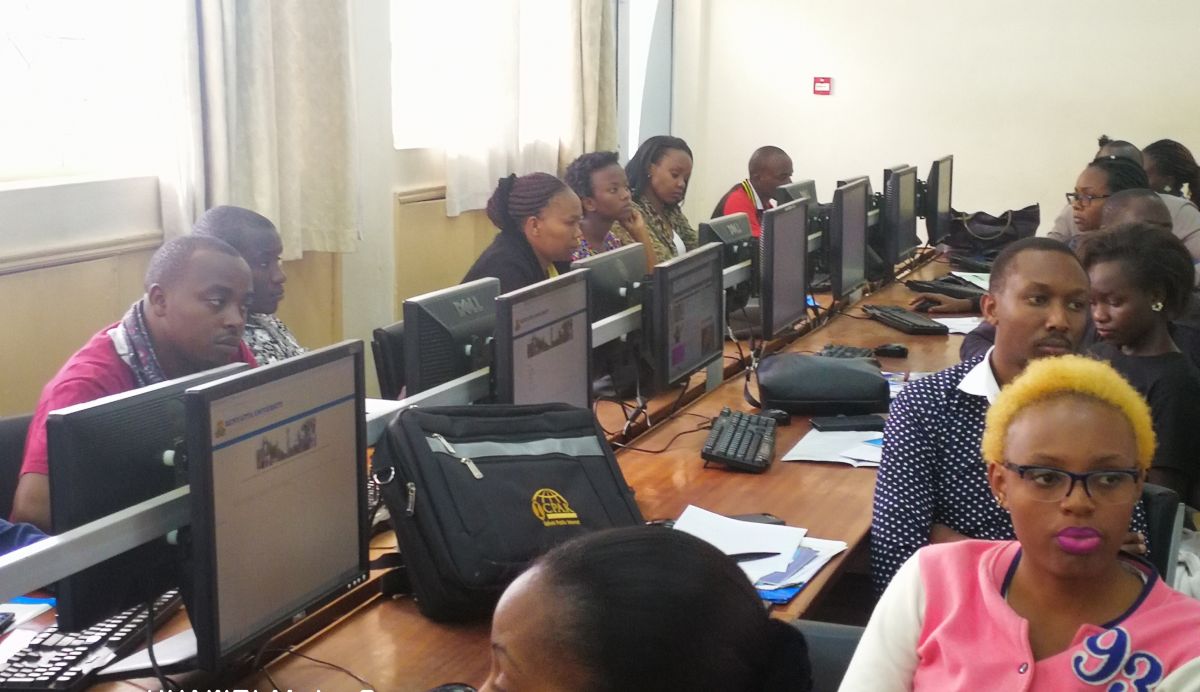 Students during an orientation at Kenyatta University attend a training by the DVSOL
"The University has managed to institutionalize e-learning in three modes of study, Digital School of Virtual and Open Learning (DVSOL), Full-time/regular courses and Institutional-based programmes," says Dr. David Nzuki, Director of e-learning at Kenyatta University. "The students and lectures interact beyond the classroom as lectures can send notices, and through the discussion forum and real-time chatting, students can raise questions which the lecturers can address."
The ODEL students are each issued with a tablet that is pre-loaded with some learning materials which can be accessed offline. Additional learning materials, assignments, and portals are accessed online. Full-time students benefit in that online learning complement Face to Face learning, and students have access to e-books and other learning materials that they access using the computer lab or their own devices, as over half of the student population in Kenyatta University own their own laptop. During orientation students are trained on how to use the devices to access various materials. Dr. Nzuki says that although some student may have technical hiccups in handling the devices, all students smoothly use their devices by the second year.
"E-learning is more helpful than Face-to-Face teaching because lecturers and students have greater interaction. Reduction of paperwork is also another major benefit," Dr. Nzuki adds.
The bloated African population though presenting itself as a challenge, offers a perfect opportunity to implement digital learning especially when personalized instruction cannot be offered to all students, and many Universities in Africa are continually adopting and finessing digital learning.