You are here
Egerton University Explores the KENET Virtual Lab In Teaching and Research
When Prof. Kiplangat Ngeno walks into a lecture hall to facilitate a class, he considers two factors: ease of his students doing practicals and presentations, and methods he can use for active learning. This is exactly what the Senior Lecturer in the Department of Animal Science at Egerton University did while teaching a master's and Ph.D. courses. The postgraduate courses he taught required the processing and analysis of huge data using high-performance computing and this would take longer to do on personal computers. KENET discovered him on Twitter and proposed a solution on the KENET Virtual Lab (VLab). 
The KENET VLab has been used for research and teaching purposes. In February 2019, Dr. Kiplangant Ngeno, a lecturer at the department of animal science at Egerton University used the Research Cloud Infrastructure to facilitate an MSc course in Quantomics and Genomics in Animal Breeding and a Ph.D. course in Bioinformatics applied to animal breeding. The students from both courses were able to run genome sequence analysis (huge data) using the KENET VLab for their courses.
One of Dr. Ngeno's class sessions using the KENET VLab
"The teaching of postgraduate students (MSc and Ph.D.) has been a challenge, especially on genomic-related courses due to the usage of huge data. Handling, processing, and analysis of such massive data require high power computing, but such infrastructure was lacking at the University. The introduction of the KENET VLab was imperative as it addressed the aforementioned challenges. We utilized the VLab in teaching the courses," explained Prof. Ngeno.
Using the KENET VLab, four of Dr. Ngeno's students (1 MSC and 3 Ph.D.) were allocated 4 CPUs, 100Gb of disk space, and 8192 MB worth of memory (RAM) to analyze genomic data. The platform, pre-configured with virtual appliances loaded with the appropriate scientific software stacks enabled the students to access and utilize over 10 software including arobinson-qualitytrim, vcftools, samtools, Burrow wheel aligner (BWa), and picard.
The KENET VLab is a key research infrastructure that has so far served over 25 researchers in various areas such as medicine, bioinformatics and agriculture. There are also several use cases in teaching where lecturers create lab environments for their classes on the platform. Because users can then self-provision the virtual machines by specifying the amount of CPU, RAM and disk space desired to run the appliance, the students could easily deploy their own compute instances on VLab. Dominic and Ruth, both Ph.D. students at Dr. Ngeno's class attested that "As Ph.D. students, there was no need of prior training because the KENET Virtual Lab is user-friendly."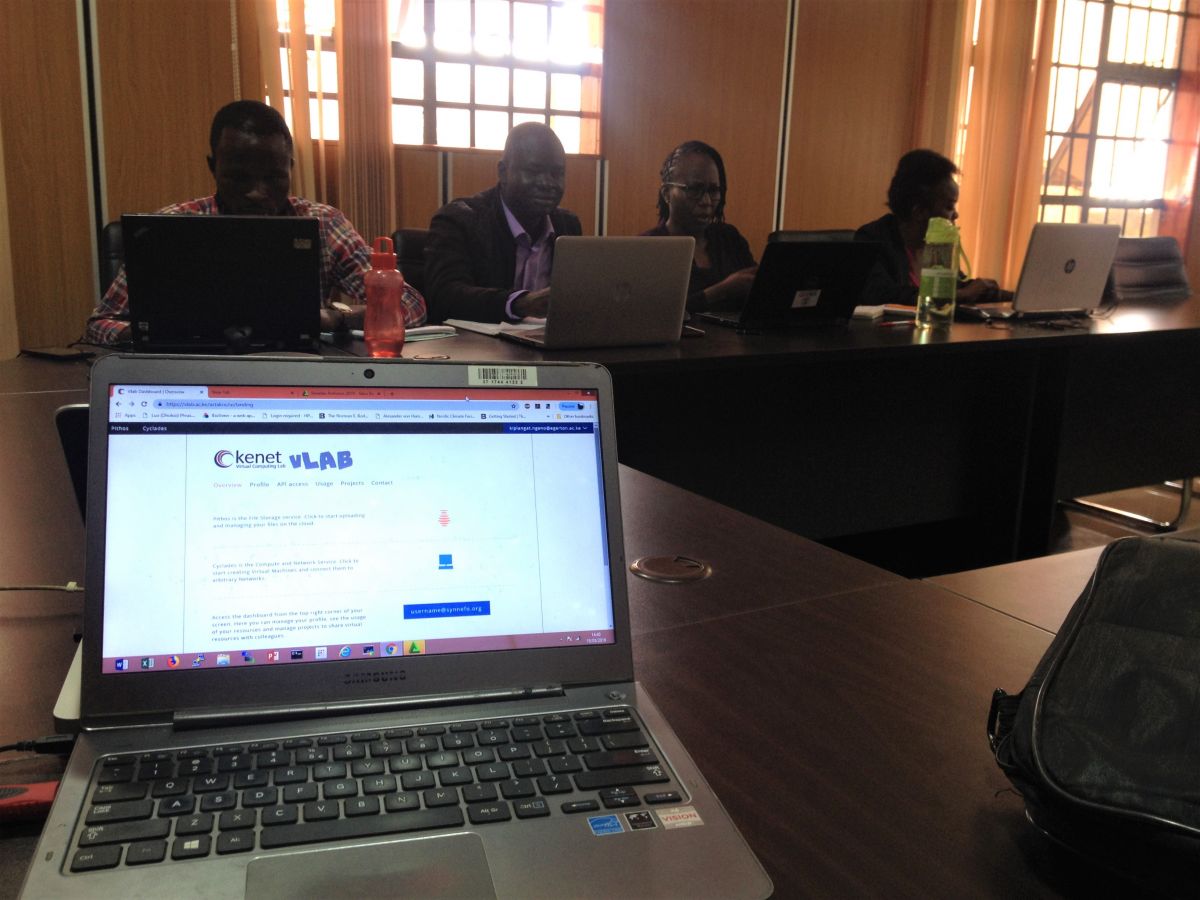 The KENET VLab facilitating one of Dr. Ngeno's classes
Animal Sciences is increasingly being dominated by the application of science and technology, the rapid development of computer and information technology for data collection and analysis. This, in turn, calls for highly skilled professionals. Dr. Ngeno who holds a Ph.D. in Animal Breeding and Genetics from Wageningen University is well versed in deep learning and machine learning. Having supervised numerous students at the MSc and Ph.D. levels, he stresses the role ICT plays in boosting the quality of education. 
"Lecturers need to adopt and integrate digital technologies for teaching and practicals and should be more experimental. Inadequate or lack of sophisticated infrastructure should not limit lectures or postgraduate students in, teaching, learning and doing research. It is easier to demonstrate to students practically and allow them to get to know more compared to only with giving them mere theory. The VLab enabled students to do practicals, thus better understanding of quantomics genomics and bioinformatics in Animal breeding," said Dr. Ngeno.