You are here
Epidemiological Modelling Workshop Participants Benefit from eduroam Wireless Internet
Access to eduroam (wireless network) granted by KENET successfully coordinated the epidemiological modelling workshop held on April 8-11, 2019 at the University of Nairobi Institute of Tropical Infectious Disease (UNITID). The workshop jointly organized by the South African Centre for Epidemiological Modelling and Analysis (SACEMA), UNITID and Washington State University (WSU) required high-speed Internet for statistical computing and epidemiological modelling. KENET was one of the workshop sponsors supporting the workshop in various ways including the provision of high-speed Internet that enabled the participants to use models to infer impact of infectious disease interventions.
The workshop drew 20 participants from 12 academic and research institutions in Kenya who are early to mid-career researchers in the field of medicine, statistics, mathematics, biological sciences, and public health. Through lectures and interactive sessions carried out by five faculty from three institutions with diverse experience in the field of epidemiological modelling, the participants were able to deepen their understanding in techniques available for analyzing and interpreting epidemiological data on infectious diseases and for predicting the impact of disease control and elimination programmes. Using eduroam, participants were able to access and explore the use of various software for coding and computer modelling for fundamental insight into disease transmission, study design, decision making and predict impact of interventions.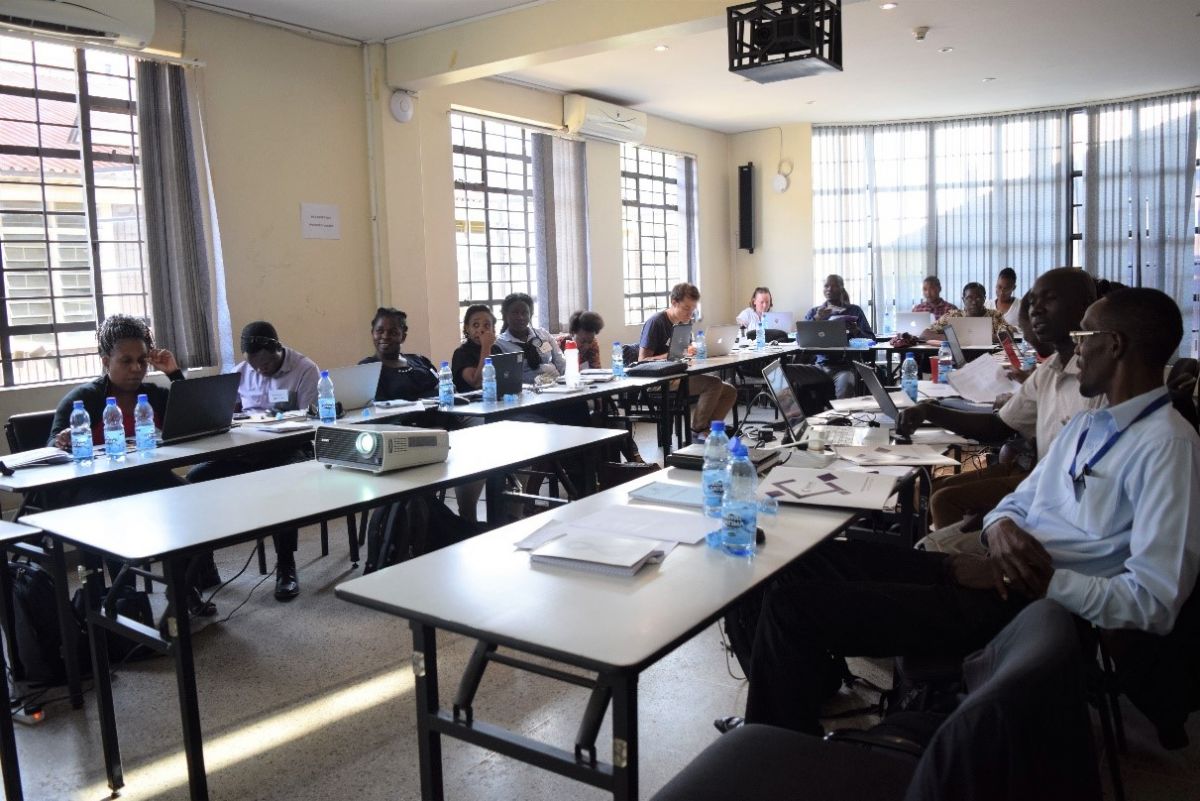 Participants following a session at the Workshop
Eduroam (education roaming) is the secure, world-wide roaming access service developed for the international research and education community. Currently, KENET has implemented eduroam in about 40 Universities in Kenya to allow students, researchers, and staff from participating institutions to obtain Internet connectivity across campus and when visiting other participating institutions by simply opening their laptop and connecting to the Internet there using the same credentials. Dr. Juliet Pulliam, Director of SACEMA and one of the workshop facilitators had first connected to eduroam at the University of Florida where she served as a faculty member prior to moving to SACEMA. She noted the ease in which she was able to automatically connect to eduroam at the workshop without using any credentials.
"My devices connected automatically to the network because my eduroam credentials are stored, making the transition seamless. Eduroam worked very well during the Workshop, and I didn't notice any difference between using the connectivity here, in the US, UK, or South Africa," said Dr. Pulliam. "Having stable internet connectivity during this kind of workshop is critical for learning and made transferring files to the participants easy. It was also essential for the instructors, who used the GitHub service to develop and share materials with each other," she added.
Participants also viewed a live demo on the KENET Virtual Lab (Research Cloud), a research infrastructure designed to aid researchers in their data computing and storage. Already, four participants already signed up on the platform. By the end of the workshop, backed by the reliable Internet connection, participants had increased knowledge of using mathematical models in describing past and future disease transmission, and how these models can be applied in evaluating the effectiveness of disease control interventions and comparing policy options to reduce the disease burden.
Mr. Ronald Osure from KENET taking participants through use of the Research Cloud
"The South African Center for Epidemiological Modelling and Analysis at Stellenbosch University is a leader in Africa in the field of applying mathematics to understanding infectious disease dynamics. We are very pleased to see this intra-Africa collaboration with the University of Nairobi working to build skills and competencies among researchers from multiple institutions and disciplines in Kenya. It is a critical skill required to address public health problems on the continent," noted Dr. Thumbi Mwangi, KEMRI Wellcome Trust Fellow, UNITD & WSU, who also served as one of the trainers at the workshop.