You are here
ICT Directors' Forum Discusses Sustainable Administrative Information Systems
The Annual University ICT Directors' Forum for ICT Directors, Managers and Heads from Universities, University Colleges and Colleges took place at the Sarova Panafric Hotel this year on 21 September 2018. A total of 84 participants attended the Forum themed, 'Sustainable, Scalable and Secure University Administrative Information Systems' with the keynote address by Universities Funding Board (UFB) Chairman, Prof. Kinandu Muragu. This year's Forum explored ICT administrative and management issues that affect the Institutions and conferred the future role for KENET in Universities administrative information systems.
The Forum program was packed with various presentations from Member Institutions and KENET, touching on the state of administrative information systems in Universities, framework agreements for procurement of ICT services and equipment, and cyber security awareness programs. Prof. Muragu, who presented his keynote address on 'University Core Data for Supporting University Funding Decisions' noted that there is need for 'timely, accurate, real time and historical data' in Institutions ranging from programs, student staff ratios, infrastructure requirements for each program and the research input.
"What we need is clear scientific information, the basis in which we need to make decisions," Prof. Kinandu stressed. "When we have IT professionals who preach the language of data, we can have data that we can analyse and process." The UFB Chairman also urged the participants to consider creating an e-university system, a common data dashboard system in which all Universities in the Country can access cloud services to help solve pertinent problems such as enrolment and administrative services.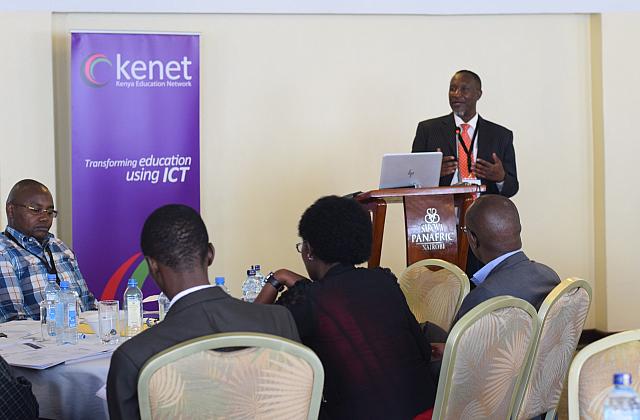 Prof. Kinandu Muragu making his keynote address at the 2018 University ICT Direcors' Forum
The afternoon breakout sessions enabled the IT managers to tackle 4 key topics in groups and reinforce the Forum theme. The topics covered were, 'Experience with Performance and Cost of Integrated Administrative Information Systems', 'Developing Framework Agreements for Joint Procurement of ICT services and Equipment', 'Cloud-based administrative Information Systems' and 'Open Source Community Developed & Supported Administrative Information Systems'.
Mr. Anthony Gichatha, the ICT Manger for University of Eastern Africa, Baraton who presided the breakout session on 'Experience with Performance and Cost of Integrated Administrative Information System', noted that, "during the break out session, I learnt a lot from different institutions on how they are implementing their ERPs, and we all agreed that there is a need to establish a working group to spearhead common interests and standards in regard to acquisition and implementation of ERPs for our institutions. ERPs can help institutions improve efficiency, reduce cost and provide data and information for prudential decision making."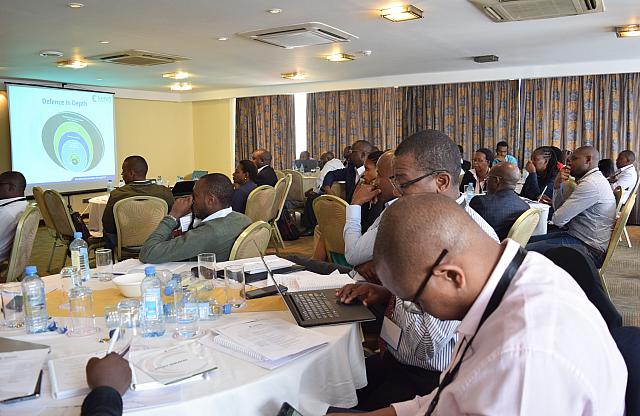 Participants following proceedings during the Forum
The Forum also offered a platform for ICT Managers to present their cases and express their views on issues they have come across in their Institutions. Some of the matters that arose were skills gap in courses, opportunities for IT-related work in Kenya that Universities need to exploit, the need for Enterprise Resource Planning (ERP) systems, and the Universities readiness for Cloud based Administrative Information Systems as well as the role of various stakeholders. In response to the issues discussed, KENET Executive Director said that a comprehensive report will be generated and shared to the participants.
"First of all, I want to appreciate the good work organized by KENET and the whole team that made the event successful. ERP being the major concern, I more so focused on the implementation of ERP made by integrating different open source modules like KOHA, Module etc. as Strathmore University have. I recommend KENET to explore on that direction. Also, the aspect of Security was an interesting part, and recommend KENET to conduct training to University Network Administrators and Technicians on the security matters and disaster recovery," said Mr. Kauthar Mohamed Faraj, ICT Director at Garissa University.