You are here
KENET's Role as the NREN reinforced during Breakfast Meeting
KENET convened a Breakfast Meeting with Heads of Institutions, Chairpersons of University Councils and Chairpersons Board of Directors of Research Institutions on Friday, 29 March 2019 at the Safari Park Hotel. The meeting reiterated KENET's mandate as the National Research and Education Network (NREN) of Kenya and its role in the Country's National Innovation Ecosystem. Over 100 participants representing public Universities, Private Universities, Research Institutions and Government bodies had an opportunity to understand in-depth on KENET's changing role in research and education and the part their Institutions play.
Prof. Meoli Kashorda, KENET Executive Director said that KENET which has been serving education and research Institutions for 20 years now since its establishment in 1999 is 100% sustained by member institutions in its operations. While mentioning the services KENET offers to create suitable environment for research and education, he urged Institutions to take the lead in innovations that KENET can support.
"Our big innovations are in research and education technologies, and in as much as we monitor their progress, these are driven inside the Institutions, and KENET only facilitates and transform education and research," said Prof. Kashorda.
Dr. Moses Rugutt, Director General at National Commission for Science, Technology and Innovation (NACOSTI) in his address emphasized on the role of KENET in the National Innovation System. He said that the Country's research regulator will continue to back KENET and research institutions by registering them. He also reflected on some of research milestones and the initiatives being undertaken to promote research in the Country such as The Africa Regional Data Cube which Strathmore University, a KENET-member is hosting, and High-Performance Computer (HPC) which been donated to NACOSTI and will be the first in Kenya. He called upon the community to help in funding and in hosting it.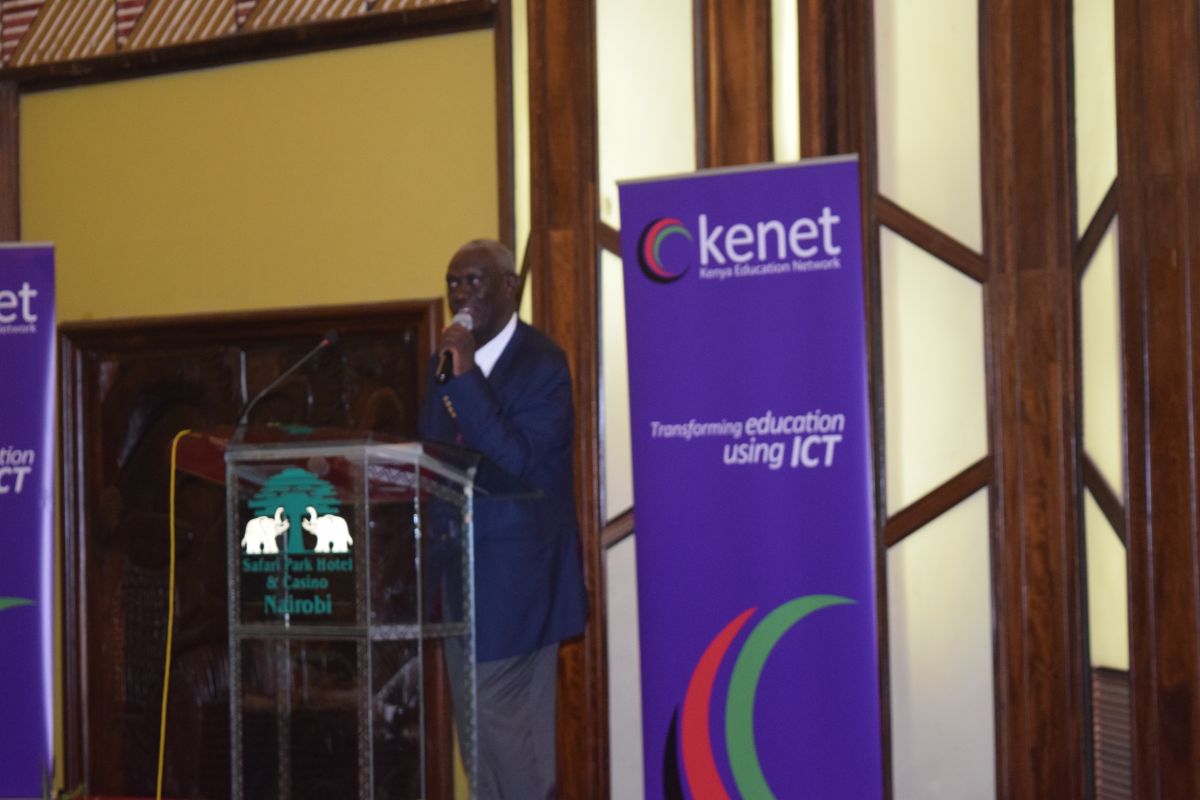 Dr. Moses Rugutt addressing participants during the Breakfast Meeting
"KENET's role is pushing for infrastructure while ICT Authority's is pushing on policy and ours is pushing for infrastructure. At the end of the day, our roles are complimentary," he said.
The Science, Technology and Innovation (STI) policy identifies KENET as a major component in the education and research front in the National Innovation System and highlights that KENET will be strengthened to facilitate sharing of research across the education and research system. Dr. Rugutt noted that the STI policy outlines to 2% of GDP will be spent on research and that NACOSTI is working towards that as it involves other key players.
"KENET is an important part of the National Innovation ecosystem. The STI identifies KENET as one of the knowledge brokers by providing high quality broadband connectivity and creating a national infrastructure and connecting that infrastructure to the global infrastructure," noted Prof. Timothy Waema, KENET Management Board Member.
The participants offered insight on how partnership with KENET can be strengthened to advance its education and research mandate as the NREN. University of Embu and Kenya Marine and Fisheries Research Institute (KMFRI) which have been KENET members for more than five years shared their experience in joining KENET and how other services have been of help to their Institutions such as Direct Engineering Support, capacity building and training of their ICT staff and provision of research infrastructure, grants and education technologies.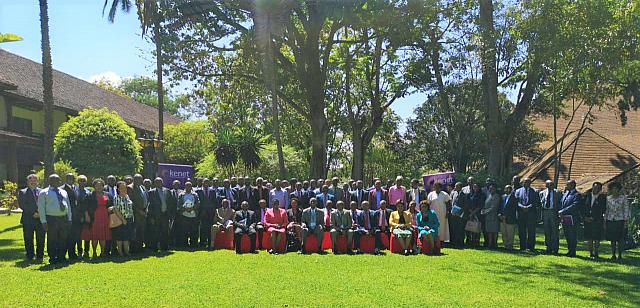 Participants pose for a group photo
Mr. Timothy Were, Director of ICT services at the Ministry of ICT lauded KENET for advancing education and research. He also noted that the Ministry is undertaking several initiatives in bid to grow the ICT sector. "Where I have been, KENET is doing a wonderful job in connecting Universities and students access to internet for education and research. KENET is therefore playing an important role in exposing Universities to global competitiveness as research and collaboration is key," he said.