You are here
KENET Hosts Open Science Workshop
Posted on:

15 August 2018

By:

admin
The Open Science Workshop hosted at KENET successfully concluded on August 10, 2018. The two-day workshop organized by the Bioinformatics Network led by Dr. Caleb Kibet, a Mozilla Science Lab grantee trained 30 participants on tools that foster Open Science. The researchers were drawn from seven institutions and encompassed master's students in bioinformatics, and a lecturer. KENET hosted the workshop at its 40- seater capacity training room which is fully equipped with Internet access, video and audio technologies.
The workshop, themed 'Open Science for Collaborative and Re-producible Research for Bioinformatics' was aimed at sensitizing bioinformatics researchers on research tools to facilitate open and reproductive science. The Open Science tools that the researchers were trained on were:
Basic Linux command-line
Markdown syntax and editors
Git and GitHub for collaboration
RStudio for reproducible research
Jupyter notebooks for reproducible research
The practical sessions of the training were carried out on the KENET Virtual Lab. This is a cloud computing platform that provides pre-configured virtual appliances loaded with different scientific software stacks. A total of 50 Virtual Machine instances were created by the participants. The machines were running one of either R Studio or Jupyter notebook software suites.  These software tools were intended to equip the participants, who are engaged in research projects as postgraduate students with the necessary skills to publish, collaborate and share their work in the spirit of open science.
"This training opened my eyes to what is possible, and what I can do," one of the participants said, evidencing the impact of the workshop on their scientific career.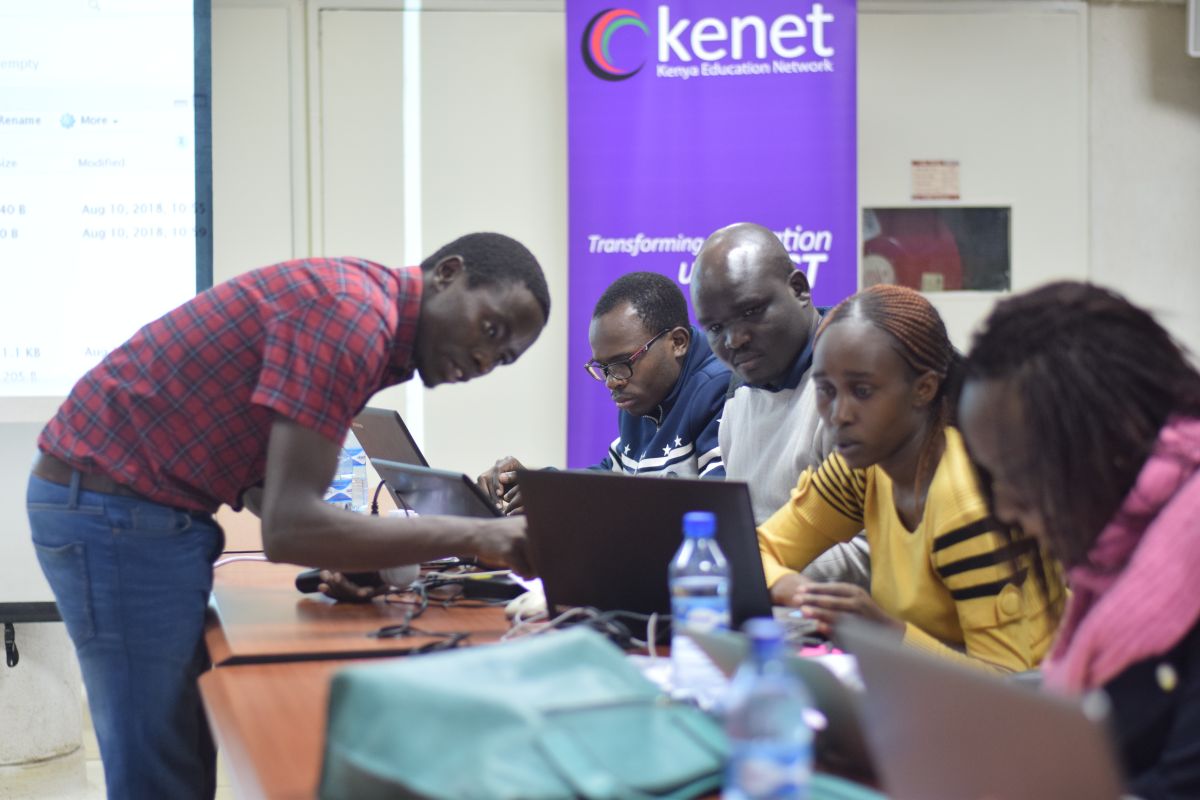 Dr. Caleb Kibet (left) taking the participants through a practical session during the Open Science Workshop
Dr. Kibet, the lead trainer and organizer for the workshop, is a researcher and holds a PhD in bioinformatics from Rhodes University, South Africa. He won the Mozilla Science grant and he has used the funds to create awareness and build capacity in the community on Open Science. Partnership with KENET came about as a result of a tweet by Dr. Kibet whereby he was seeking for ICT infrastructural support from within the community.
As a researcher, Dr. Kibet noticed that most researchers work in isolation and shy away from using research development tools. He chose to work with KENET as it is known to facilitate use of ICT for research.
"We are privileged to have partnered with KENET, who are taking the lead in building the necessary infrastructure for open science, to deliver a successful workshop. We truly appreciate their support," Dr. Kibet said. "The research dynamics around the world are changing, and as a country, we ought to adapt or be left behind. Research should be open and collaborative, taking advantage of the wisdom of the crowds when addressing important research questions. Our students and researchers, therefore, need to be equipped with the Open Science tools to remain competitive, which was the main objective of the open science workshop," he added.
KENET Executive Director, Prof. Meoli Kashorda welcomed the team, noting that research infrastructures have been made possible by people who seek to enhance research, and vowed to countinue supporting researchers in increasing research productivity.