You are here
Q&A- Using Big Data for Malaria Elimination in Africa
 "As long as predators exist, preys will thrive. As long as drugs and vaccines exist, diseases will thrive. The fight is therefore not against disease emergence but resistance to treatment and control." This magnetic headline in Kevin Kum Esoh's blog captures his interest and lays bare his passion for inspecting human genetic variations with resistance to severe malaria. According to the World Health Organization (WHO), 92% of malaria cases were reported in Africa in 2017, making the Continent have a high share of Malaria infections. We catch up with the DELGEME MSc student in Molecular Biology and Bioinformatics at the Department of Biochemistry, Jomo Kenyatta University of Agriculture and Technology (JKUAT), who besides working towards malaria elimination in Africa, possess talent outside science in singing and playing the harmonica.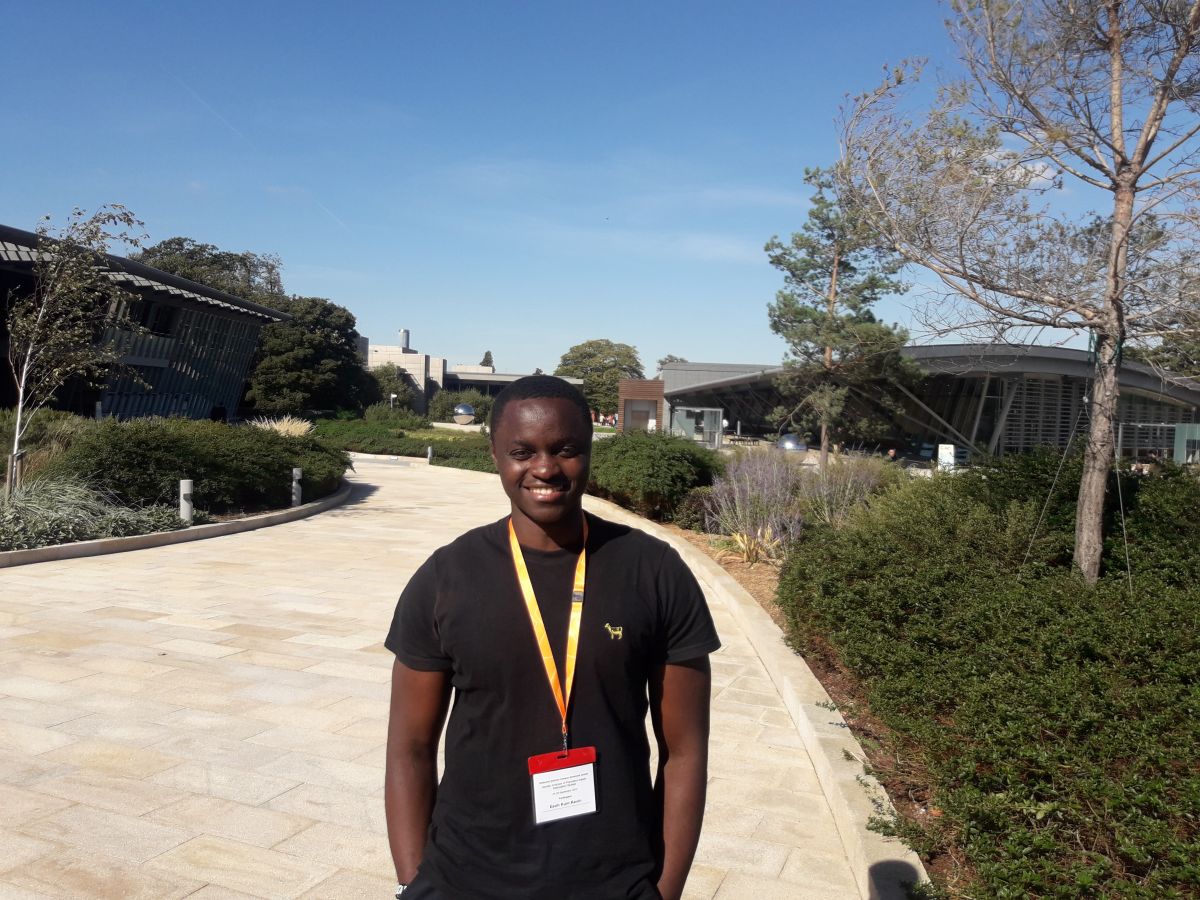 Kevin Esoh
Briefly tell us about your background and what you do
My quest to understand how the human body functions at the molecular level and responds to the environment, and how to use the knowledge for the greater good runs through my veins. After obtaining my BSc degree from the University of Buea, Cameroon, in Biochemistry with a minor in Medical Laboratory Technology I enrolled for an MSc degree in Biochemistry. However, I didn't complete that degree as I was awarded a scholarship to undertake my current MSc program in Bioinformatics, which had become an area of great interest to me during my undergrad course.
As a DELGEME MSc Student, what's your specific area of interest?
My MSc project as a DELGEME student focuses on screening the human genome for genetic markers that are associated with resistance to severe malaria or increased susceptibility to the same. It is worth noting that DELGEME is one of the DELTAS funded projects in Africa and is dedicated to malaria research. The scope involves the three fronts of the malaria disease which are; the Anopheles mosquitoes (the vectors that transmit malaria), the Plasmodium (the disease-causing parasite), and humans. My project focuses on the human front in that I am specifically interested in probing the strengths of the human genome that can be harnessed to combat the parasite by producing more effective and efficient vaccines and/or drugs.
What made you take a keen interest in Malaria?
I have always had this passion for the sciences and research. My interest in Genome-wide Association Study (GWAS) of human genetic determinants of disease susceptibility came during my first DELGEME summer course in Bamako, Mali in 2017. I read a lot of papers to prepare a presentation and one paper particularly intrigued me. Published by the Malaria Genomic Epidemiology Network (MalariaGEN), the study found a new genetic marker of resistance to severe malaria in the Gambia, Malawi and, Kenya, but did not find the same in 11 other African countries endemic with malaria, including Cameroon. The authors however recommended regional analysis of the data, citing the extensive genetic diversity in Africa as a possible confounder. In 2018, a regional analysis conducted in Tanzania found new markers that were not reported in the multi-population study by the MalariaGEN. Therefore, with the availability of human genetic data for Cameroon, I decided to conduct a regional analysis with the approval of my supervisor. The very interesting thing about these studies is that they can yield, potentially, vital information which may guide vaccine development.
You run your own blog, Esoh's Science, tell us more about it?
In conjunction with this passion to learn and do science is the passion to communicate science. My strategy for studying has been one of taking every subject as a story. Everything along the line is related to the previous and the next, and so on. So, capturing all the points and connecting them together makes science very easy and fascinating to learn, and consequently a beautiful story to tell. In high school, I did some journalism and served as the information prefect in my school. I attended Radio Holiday Camps at a popular regional radio station where I hosted and presented several programs. I created my blog for one purpose, to communicate my opinion on science and my research findings. I usually read health magazines like ScienceDaily and Nature Briefings and sometimes I make commentaries on specific issues on my blog.
How many papers have you published so far?
I have been involved in a single publication so far. I am part of a research team at my home University in Cameroon called MANE-NTD. We conduct research on neglected tropical diseases (NTDs), particularly onchocerciasis and leishmaniasis. These are parasitic diseases that cause severe skin lesions in those affected, and a majority of patients reside in Africa. Our publication is based on a study to design vaccine candidates for onchocerciasis using the reverse vaccinology approach as no vaccine currently exists against the disease, and conventional vaccine development strategies have not been able to produce an effective vaccine. The study is related to my MSc project in Biochemistry which I had commenced in Cameroon before moving on to my current MSc program, which seeks to scan genotype data of thousands of Cameroonians from malaria-endemic regions of Cameroon in a bid to discover mutations that may be associated with increased or decreased resistance to severe malaria.
Speaking of your project, you recently used the KENET Virtual Lab to download large genomic data. Tell us more about your encounter with KENET and the data you were working?
My encounter with KENET has been one of my best recent experiences. I first encountered KENET during the Open Science Workshop organized by my lecturer at JKUAT, Dr Caleb Kibet. The workshop and hackathon marked a turning point in the way I approached Bioinformatics as a practical discipline and writing codes. My usage of the KENET Virtual Lab (VLab) came at a point in time when I was in dire need of fast internet connectivity and data storage facility for my project that utilizes huge human genotype data. The data involves 2.3million single nucleotide polymorphisms (SNPs) or DNA sequence variations that were genotyped from 1471 samples of malaria patients and healthy participants in Cameroon. My aim is to look for SNPs that occur at significantly different frequencies in the patients and healthy participants and determine whether these differences are due to severe malaria. Using the KENET VLab, I was able to download 60GB of data in just a few minutes and transfer the data easily to my account on the DELGEME server. I think any researcher in Kenya who deals with Big Data and doesn't know about KENET is missing a lot.
What would you say has been your greatest achievement as a Researcher?
My greatest achievement I would say has been, more recently, the paper which was published in Nature Scientific Reports. As a first paper, it is a milestone to have it published by a well reputable publisher. Also, I would equate this achievement to attending the Wellcome Genome course where I learned the most important skills I need going forward from the very bests in the field. The Wellcome Genome Campus was celebrating their 30 Year Anniversary in 2018 and they offered 30 places to candidates who applied to attend any of their courses anywhere around the world in 2018. And that is how I became one of the beneficiaries. The course manual that I returned with is the "gold standard" to me. However, I cannot say I follow their procedures verbatim as conducting GWAS studies in Africa requires a more robust and rigorous approach with a lot of tweaking of the methods and algorithm to fit African populations which are by far the most genetically diverse populations. I have been doing just this since attending the course with arguably great success. My pipeline and codes are all on my GitHub page.
What do you envision for the future regarding Malaria reduction in Africa considering we have the highest share of the global malaria burden?
This is a great question. This question is at the core of the global discussion on malaria. I wish the answer was a simple and direct one. For example, the incidence of malaria in Africa has stalled for the past 2 years. This is a disturbing trend! Given the fact that our first line of defense against malaria, artemisinin and its combinations, are being resisted by the Plasmodium parasites in southeast Asia, it will be catastrophic if this resistance spreads into Africa. Furthermore, according to the WHO World Malaria Report for 2017, there was a whopping 2 million increase in the number of malaria cases with over 90% of the cases residing in Africa. So, there is a lot of data showing that the fight has halted. One of the reasons for the successful elimination of malaria in many parts of the world has been the implementation of good policies and systems that efficiently track and tackle the disease. The failure of these systems in Africa is probably the greatest reason why malaria thrives with such high numbers. However, I think the future is bright. There is an amazing thing happening in the continent now; renowned African professors who have studied and lived in the diaspora are coming back home to take up funding and leadership roles, young Africans are getting more excited about research and therefore an enormous capacity building is being built around the Continent.
You are obviously optimistic in Africa will winning in this fight against Malaria. What strategies should be implemented in order to achieve this? If so, how?
Although I believe it is achievable, it is going to take time. Firstly, to improve the rate of malaria reduction, we have to reduce poverty and increase awareness by improving education. Now, are the conflicts and wars ever going to end? Probably. That is why we need frank dialogues among factions for peace-building. However, with an increase in the funding of malaria research, the increased capacity building in the continent, and the rate at which technology is transforming research, I believe the gains in malaria reduction are forthcoming. There has been an improvement in the surveillance of malaria drug resistance by organizations like the WorldWide Antimalarial Resistance Network (WWARN), drones are being used to deliver drugs and vaccines, and researchers are being challenged with cash prizes to come up with creative solutions. All these and more are indicative of better days ahead in our fight against malaria.
Finally, what would you advise your fellow researchers?
I think the greatest advice at this age when technology has greatly transformed research is to seek by every means to practice openness in research. Open science is the talk of the day in the research community and when we see one of the greatest funding agencies, the Wellcome Trust, insist that their recipients need to practice open science, then we must take it seriously. This openness makes research findings available to the wider community for research replicability and reproducibility and helps to eliminate research fraud. To young African researchers, I will say there are lots of prospects here in Africa. We need to open our eyes and ears, be vigilant to identify the problems that plague our societies and be creative enough to transform our ideas into opportunities. And like the EMBL group leader Santiago Rompani, I would say above all, we need to have a great fundamental skill set in our core disciplines.