You are here
Financing the upgrade and expansion of campus networks
Posted on:

11 August 2023

By:

director
A dedicated national academic network, also called a National Research and Education Network (NREN) has three main segments as shown in Figure 1:
The campus networks that are owned and operated by member academic institutions.
A dedicated national distribution network operated the national research and education network (NREN) organization, KENET in case of Kenya. The distribution network segment interconnects the campus networks, making it possible to national academic resources.
The international network segments that connect academic institutions to the global academic Internet as well as the global Internet. This is also operated by the NREN organization.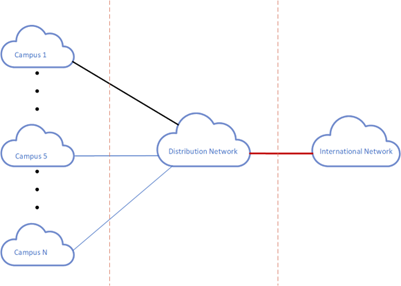 Figure 1: Network infrastructure segments of a National Research and Education Network (NREN)
Nearly all the main campuses of Kenyan universities are connected using a high-speed protected last mile fiber link at speeds of 1,000 Mb/s (or 1 Gb/s) or 10,000 Mb/s (or 10 Gb/s). However, access to high-speed (or meaningful) Internet by users (i.e., students, faculty, and staff) depends on the quality and speed of the campus networks, that includes campus WiFi coverage.
KENET has established that many campus networks are now the bottleneck for access to high-speed or meaningful Internet by users. This is because of the limited campus WiFi coverage in learning spaces (includes student hostels) and the old campus network equipment in urgent need of being upgraded (10+ years old and out of support by manufacturers).
The 2022 Heads of Institutions forum therefore identified financing the upgrade and expansion of campus network infrastructure as the Top ICT issue. This was consistent with the KENET strategic plan of 2022-2027 that aims to mobilize up to $200 million over a five-year strategic plan period to support the upgrade and expansion of campus networks of member institutions. This is because students, faculty and researchers access academic resources and applications and high-speed Internet through their respective campus networks.
As a start, KENET established a KES 200 million digital campus network infrastructure revolving fund in July 2022. This fund shall initially finance the upgrade of campus networks that had old network equipment that was 10+ years and for urgent expansion of campus networks to connect new buildings or extend campus WiFi to on- and off-campus student hostels. This fund replaced the annual Direct Engineering Support (DES) budget that has in the past 10+ years donated campus WiFi and/or network equipment to "needy" member institutions. A beneficiary member institution shall sign an "engineering, procurement, build, operate and transfer" agreement with KENET. The recovery period for the investment shall be over a period of 12 to 60 months. The actual amount to be invested per beneficiary institution shall be limited to the annual Internet expenditure of the member institution.
Beneficiary member institutions shall be selected on a first-come-first served basis. Daystar University and KEMRI were the first two beneficiary institutions in the FY 2022/2023. There are ongoing discussions with another five potential beneficiary member institutions (universities and research institutions)
Unfortunately, the cost of the imported network equipment is increasing due to post-COVID global supply chain problems as well the depreciation of the Kenya Shilling. We therefore expect the KES 200 million revolving fund to be exhausted within the FY 2023/2024. We are still hoping that the Kenya Digital Economy Acceleration Project (KDEAP) shall also be applied to upgrade the campus networks of some educational public member institutions in the FY 2024/2025.
This is a new membership service, and we hope the very "needy" member institutions shall apply for funding by December 2023.
Written by
Prof Meoli Kashorda, Executive Director
August 2023