You are here
Call for Proposals: Computer Science, Information Systems and Engineering Multi-Disciplinary Mini-Grants 2019/2020
KENET has as one of its mandates, the role of catalyzing collaboration in research and education among member universities and research institutions. KENET promotes collaboration through facilitation of Special Interest Groups (SIGs) in priority academic areas, discovery of active researchers/faculty, provision of research and education mini-grants to researchers and member institutions, as well as travel grants for faculty and/or graduate students in SIG areas. 
This Call for Proposals for Computer Science/Information Systems/Engineering mini-grants is intended to promote early stage CS/IS or engineering research and development in current and emerging research areas. The mini-grants target early stage research, enabling researchers to undertake proof-of-concept work to support R&D ideas and concepts. 
It is envisioned that the mini-grants, which are ideally targeted at junior faculty, will position recipient researchers in good footing to further their research and expertise in emerging research areas, and subsequently attract more research funding. This call also aims at strengthening research collaboration amongst CS,IS and Engineering faculty.
Through this second round of CS/IS mini-grant funding, KENET hopes to not only support individual research teams, but to facilitate institutional collaboration and formation of communities of practice in the research areas of focus, leading to enhanced research capacity in member institutions.
Eligibility
This call is open to Computer Science, Information Systems or Engineering faculty (who are full-time) at any of the KENET member institutions. Applicants must be PhD holders, must demonstrate active research interest and must have obtained their PhD degree within the past 5 years.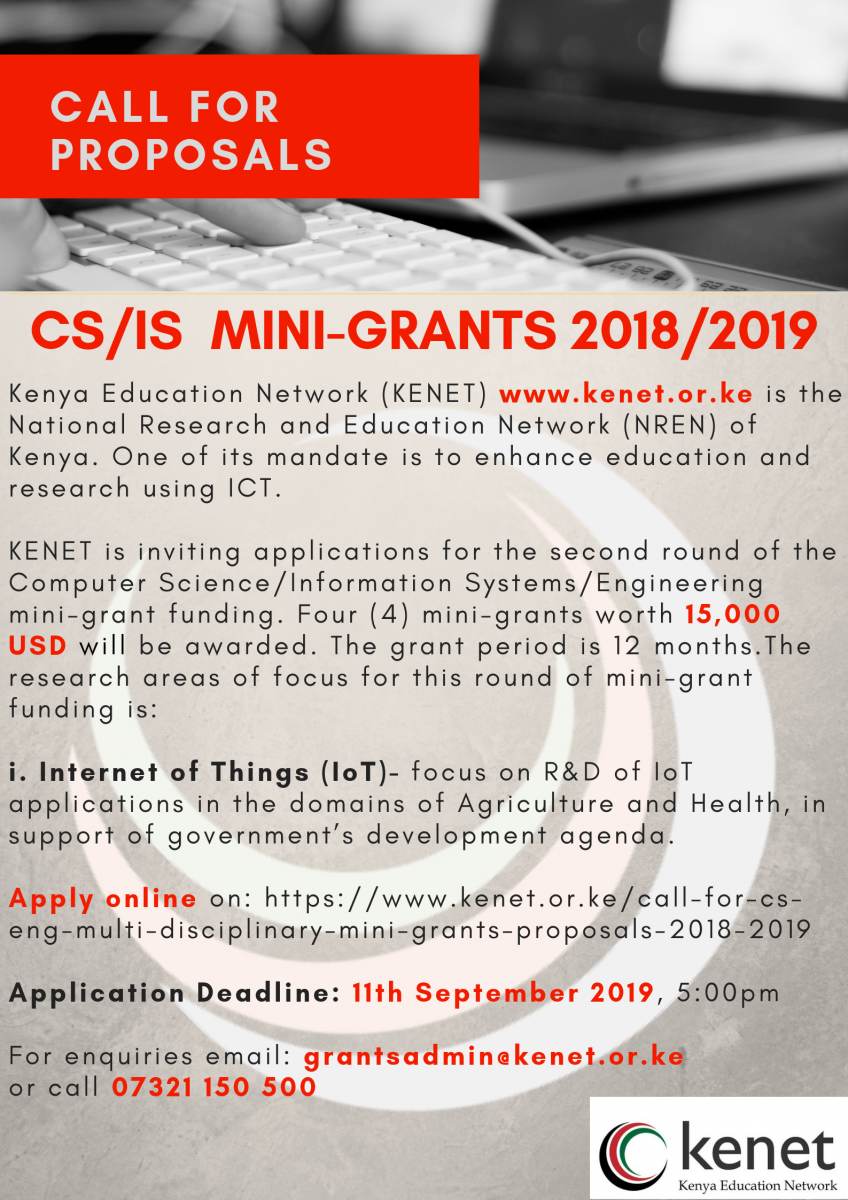 Click here to download call for proposal 
Submission Deadline: Concept notes with all supporting documentation should be done through the online submission portal by 11th September 2019, 5.00PM EAT.