You are here
DES: Improving Bandwidth Consumption at Thika Technical Training College
Posted on:

16 July 2018

By:

admin
Following a Direct Engineering Support (DES) initiative conducted at Thika Technical Training Institute, Main Campus on July 9- 13, 2018  the Institution has recorded an improvement in bandwidth consumption. The DES initiative carried out by KENET engineers resulted in the institution being able to consume bandwidth speeds of over 100 Mbps during off peaks(6pm-6am), four times more than the capacity they were consuming prior to the DES.
The Institute joined KENET on January 2018 after facing some challenges with their previous Internet Service Provider (ISP).  KENET conducted a 5-day DES at the Institution to resolve challenges within their Local Area Network (LAN) that hindered them from utilizing the bandwidth they had subscribed for. By carrying out the network improvement activities to remove bottlenecks that were causing outages and slow speeds, KENET enabled the Institution to fully utilize their subscribed bandwidth with students and staff enjoying improved Internet services.
Mr. Joel Wanjama, the ICT Director who has been in the Institution for 8 years noted that "Our problem with LAN is that we usually had unreliable general-purpose switches which used to go on and off every time. We never had smart switches during that time. Low bandwidth was also a contributing factor, and increased student population demanded for increased bandwidth but the LAN that was existing could not support all those changes that were taking place. The expansion of the institution actually demanded that we should also improve the Internet service and redesign the Local Area Network."
To resolve the connectivity problems, the team then came up with a network segmentation plan which included the configuration of Virtual Local Area Networks (VLANs) on the various network. Other activities that were carried out during the DES were installation of network monitoring tools which has enabled the Institute to see how the network is being utilized by the various users and enabled the ICT staff to monitor the status of the devices e.g. if a switch is off or disconnected or has very high CPU consumption. In addition, KENET donated and deployed manageable network switches and wireless access points.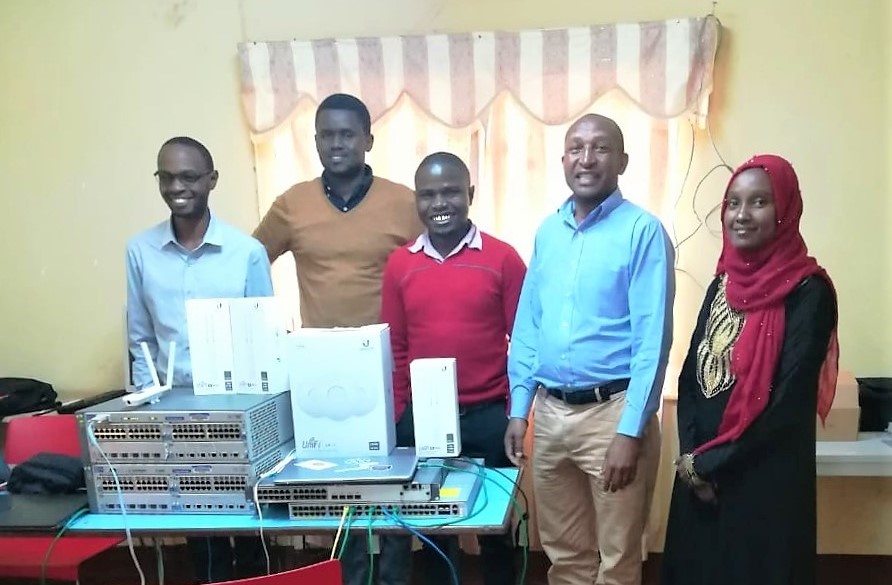 KENET engineers presenting equipment to ICT team. From Left. Evans Ng'ang'a (KENET), Mr. Mungai (Thika TTI), John Saruni (KENET), Mr. Wanjama (Thika TTI) and Patricia Kimani (KENET)
"We are grateful because KENET donated switches and wireless access points. I don't know how much time it would have taken us to purchase some them. Once the equipment was configured and installed successfully, our access to online services has improved and increased considerably," he said. "In addition, e-learning has been fostered. We have a department called ODEL. The fact that bandwidth was increased, it provided a good platform under which students will access module platforms and they are able to access it from anywhere."
The 5,000-student population and staff have been able to access the Wi-Fi from new locations due to the increased number of access points mounted around the campus. Cecilia Egiron a student pursing Diploma in Applied Biology said that, 'the Wi-Fi is now really fast, and I can access Internet from virtually anywhere in the Campus to do research for my assignments and for my leisure."
The ICT technicians at the Institution also benefited during the DES. Mr. Wanjama said that "Our technicians really benefited from that engagement because during the DES, they were able to share ideas with our technicians and give directions on how certain issues should be handled so that if certain issues occur, the technician will be in a position to solve that particular problem. As per now, the bandwidth is okay as most of the users can carry out their work without any hitches at all."