You are here
IBM Concludes Big Data Engineer Training for University Faculty at KENET
Posted on:

18 March 2019

By:

admin
Big Data is one of the emerging areas that is experiencing staggering growth owing to the importance of data in becoming a key driver in decision making. Partnering with KENET, IBM under its IBM Skills Academy training project concluded a 5-day training on Big Data for University Faculty on Friday March 15, 2019 hosted at the KENET training room. About 56 Computer Science or Information Systems faculty drawn from over 20 Kenyan universities were trained on the path to becoming Big Data Engineers.
The faculty were trained through face-to-face sessions by Big Data experts, preparing them to use the Big Data platform and methodologies in order to collect and analyze large amounts of data from different sources. Participants were exposed to the tenets of Big Data ecosystem and Data Science. Each of the sessions included hands-on exercise Lab environments conducted on the IBM Cloud Lab platform that enabled participants to access tools for Big Data Analytics.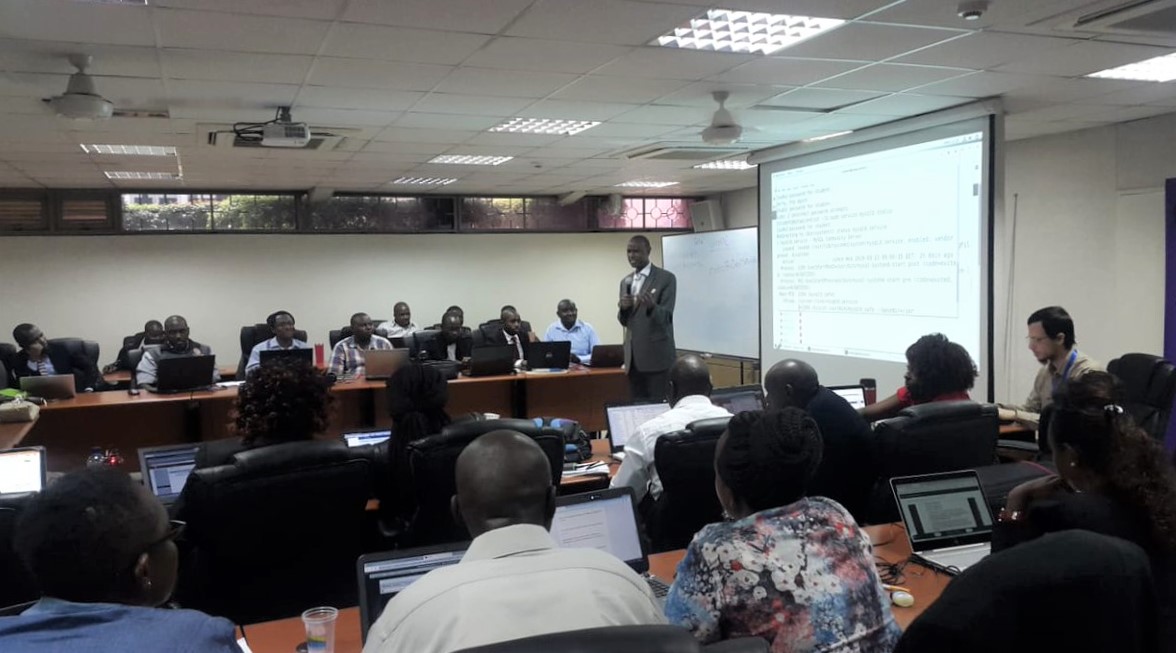 KENET Executive Director, Prof. Meoli Kashorda giving his welcome remarks at the Big Data Training Hosted at KENET
The IBM Cloud platform that hosts the virtual images was instrumental for the Big Data hands-on lab exercises. IBM courses provide approved, standardized courses via a universal cloud system, and KENET being a partner hosts the IBM Cloud Lab. Using the IBM Cloud Lab, participants at the Big Data training could access the array of learning materials in the IBM database, benefiting from the cloud-enabled learning environment. The cloud-lab can also be accessed by students and faculty from any campus on KENET network that is broadband last mile fiber at speeds of 1 Gb/s or above.
"IBM seeks to create an ecosystem for itself and its partners such as KENET to provide skills to students and lecturers for market driven skills, said Mr. Jimmy Kosgei, Technical Lead for IBM Digital- Nation Africa, a free for all, self-paced online learning platform. "Big Data will prepare people to use data to make decisions in organizations. The increased use of social media also comes with a lot of data; therefore, Big Data is going to be a key skill in organizations using data to make decisions," he added.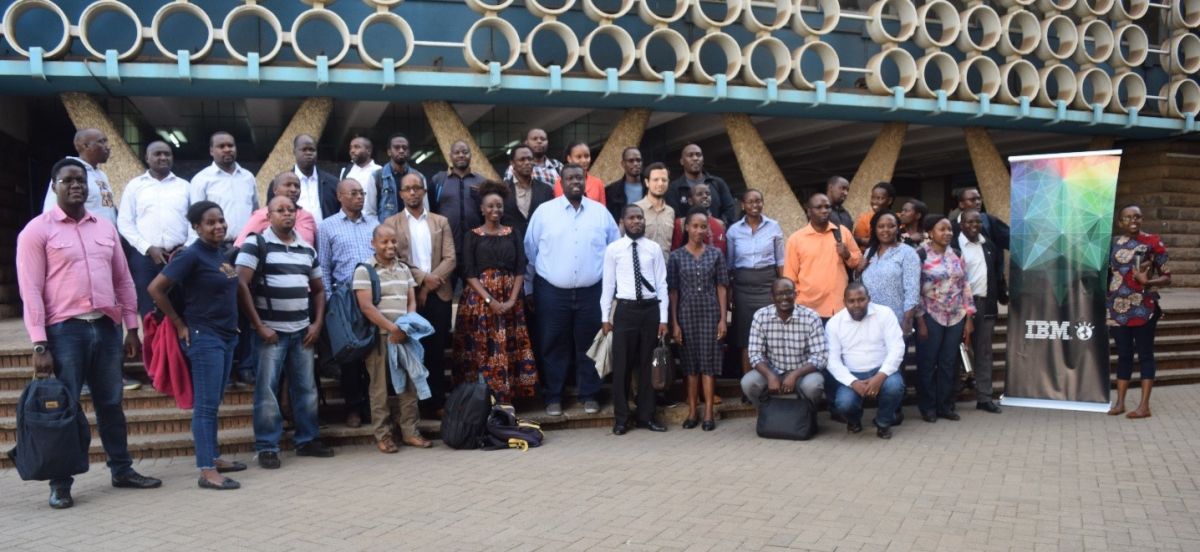 Participants of the Big Data 2019 Training pose for a group photo at UoN Main Campus
Adopting a Train-the- Faculty model, the training equipped the Faculty who can then disburse the skills their students. At the end of the training, participants took a proctored exam and 88% of the participant got the requisite pass mark of 60%, receiving an IBM Mastery Certificate in Big Data. The certified Big Data engineers are now qualified to train the students semester over semester, preparing them with Big Data skills that are in high demand in today's IT industry.
Mr. Stephen Mutuvi, Senior Technologist at MultiMedia University noted that, "the past four days have been an eye-opener, and I was especially pleased to have learnt a lot on analytical tools used in Big Data. This is now my second IBM training to attend after the Blockchain training last year, and the first cohort of students that I trained already sat for their exams last week. I am really looking forward to impart skills to my students with skills in Big Data that I have learnt."