You are here
KENET holds the 2022 KENET Grantees Forum at Movenpick Hotel, Nairobi
KENET successfully held an in-person forum for 2022 cohort of grantees on July 29, 2022 in Nairobi.  The main purpose of forum was to for the research team to meet with KENET research services team, that includes the part-time research associate and learn about the KENET research computing platform The forum was also an opportunity for the different teams drawn from different university or research institutes in order to promote research collaboration. The grantees also received feedback from their proposal reviewers.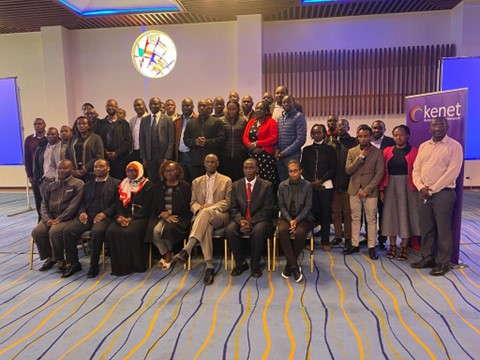 The forum was attended by a total of 38 participants, consisting of the following:
    30 early career PhD faculty drawn from three Special Interest Group areas of computer science and information systems (CSIS), computational modelling and material science (CMMS) and engineering. 
    Five expert proposals reviewers who were senior faculty or researchers from member universities and research institutes.
    The three research associates responsible for coordinating the research projects in each of the three SIG areas as well the KENET developers and systems administrators who support research services.   
KENET awards small grants of up to KES 1.5 million per team to at nine to 12 research teams. In June 2022, KENET awarded small grants to 11 research teams each with an early career PhD as the Principal Investigator (PI).  The 11 teams were drawn from the active Special Interest Group (SIG) areas of computer science and information systems (four teams), computational modelling and materials science (four teams) and engineering (three team).  
Speaking at the opening session of the forum, KENET Executive Director, Prof Meoli Kashorda announced that KENET will constitute and support two new SIGs in the areas of Medicine and Earth Observation in FY 2022/2023. Each new SIG shall be headed by a senior faculty member or researcher as a part-time KENET research associate.  
The grantees learnt about the SIG research priorities and engagement (2017-2027) and got responses on the quality of their proposals from the reviewers and research associates. The forum was highly interactive and involved presentations and group discussions with input from the research associates, grant reviewers and the highly qualified KENET team.  
Dr. Atunga Nyachieo, an expert reviewer and a senior scientist at the Institute of Primate Research remarked that he was impressed by the high calibre of innovative research proposals he reviewed in the SIG CMMS area. He also noted there are specific areas which need improvement. Dr. Nyachieo stated that "Improvements are required in various aspects of review including budgeting, student mentorship, demonstrable ability to perform the research within the stipulated time-frame, potential for industrial applicability and ability for competitiveness in the market for similar products,"  
Dr Nyachieo also expressed his expectations on research proposals, budgets, mentorship and the proposed research. "As a reviewer, I expect a research proposal to demonstrate intellectual merit and broad impact. Any innovate research must demonstrate that one day it will find its way to the market and impact positively on livelihoods. There should be prior demonstrated ability of the success of the proposed research through a pilot study. I expect more funds on the budget to be apportioned for the actual research and if a student is involved in mentorship, a clear title of research should be demonstrated," said Dr Nyachieo
Through the group discussions held, the grantees gained more insight on the research project preparedness and grant management, research computing facilities available on the KENET cloud or through, potential for local and international collaborations, and future research funding opportunities. The KENET research services team demonstrated the KENET research cloud platform that provides FREE research computing and storage services with software appliances for different research groups (e.g., software appliances that support Octave for engineering, Jupiter notebooks, and expresso for materials science groups or even R-studio for statistical analysis).  
The forum was part of the research engagement activities at KENET aimed at catalyzing computer intensive and big data collaborative research projects in priority research areas identified by the different SIGs. The next Call for Small Grants Applications for the 2023 cohort shall be in December 2022 to January 2023.