You are here
KENET holds regional research outreach forums
Posted on:

23 June 2023

By:

KENET
KENET held five (5) half day research outreach forums from May 26 - June 16, 2023 in Nyeri, Kisumu, Mombasa, Nakuru and Nairobi regions. The fprums were attended by 856 participants from over 400 institutions countrywide. The aim of the outreach forums was to create awareness on the availability of KENET research services and to publicize the call for proposals for Research and Innovation Grants in Computer Science and Information Systems (CSIS), Computer Modelling and Material Science (CMMS) and Engineering for the Financial Year 2023/2024.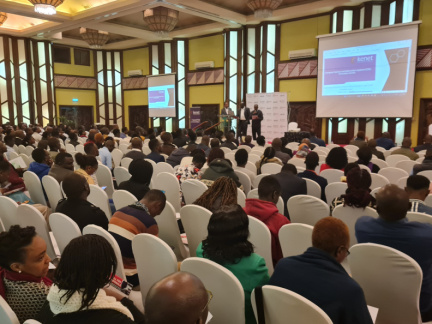 KENET Research Outreach Forums
During the engagement KENET conducted live demonstrations for the Virtual Lab (VLab) which provides computing and storage services to faculty and researchers to help them solve problems at hand without burdening the researcher with installations and customization of the infrastructure or virtualized servers.
The enhanced awareness of the KENET research services will in turn increase the usage of shared infrastructure  by researcher and graduate students leading to growth in research productivity and potential for institutional and national research collaboration with a priority in Science, Technology, Engineering and Math (STEM) and data-intensive research areas. This allows the research community to articulate and align their needs and create an opportunity for collaborative discussions.
Speaking at the forum, Prof. George Amolo, KENET Research Associate, highlighted the need for more hands-on training on the use of KENET cloud and HPC services. "KENET needs to offer additional training to ensure that a wider audience is reached. There is also a need for deliberate efforts to supports associations in fields such as Applied Mathematics, Bioinformatics and Environmental & Health Sciences, "said Prof. Amolo.
Dr. Peter Akuon, 2019 KENET Multi-Discplinary Mini Grant Awardee presented on the Impact of KENET Grants on Education and Research among member institutions. "KENET as a catalyst in transforming learning, research and working environments using ICT can reach out to researchers in different regions through these research forums. The forums are valuable and more researchers should apply for the innovation as the feedback from the forum participants will inform the outlook of the research fous areas in future research forums, " noted Dr. Akuon.
The research outreach forums are in line with KENET's vision of being an academic community significantly contributing to the achievement of high research and innovation productivity levels of Kenya.