You are here
Schools Connectivity Initiative paves way for Applied Learning at Alliance Girls
Posted on:

18 December 2018

By:

admin
When the Schools Connectivity Initiative (SCI) was launched in 2014, Alliance Girls High School was one of the schools that jumped in on the free mass connectivity bandwagon. Before then, numerous Internet Service Providers (IPS) had presence in the National School but the high cost implications and fluctuating bandwidth were deterrents making the School to seek other options. After experimenting with the one-year School Connectivity Initiative, Alliance Girls High School sought to settle with KENET as its Internet provider four years down line to serve its students and teachers.
The SCI coordinated the various commercial, educational and government organizations that were interested and willing to provide Internet access and promote the use of ICT in Kenyan schools. KENET signed a partnership agreement with the Wananchi Group Limited (WGL) and the Nairobi County Government to connect 245 Nairobi County Schools to Internet using the Wananchi home fiber infrastructure. The general objective of SCI is to improve the quality of education by transforming teaching, learning and administration of schools in Kenya by leveraging ICTs.
Mr. Wanyonyi Waswa Head of Computer Studies and ICT at Alliance Girls Highschool noted that the SCI offered reprieve for the School owing to its cost-effectiveness. "The cost implication was a bit high with other providers. For instance, we were paying around 30,000 per month for 2 Mbps which was dedicated to the school. When KENET came in through the Schools Connectivity Initiative, it was good for the school in that it is most cost effective, the speed a bit high. Currently, with KENET we pay 10,000 per month which is more cost effective compared to other service providers," he said.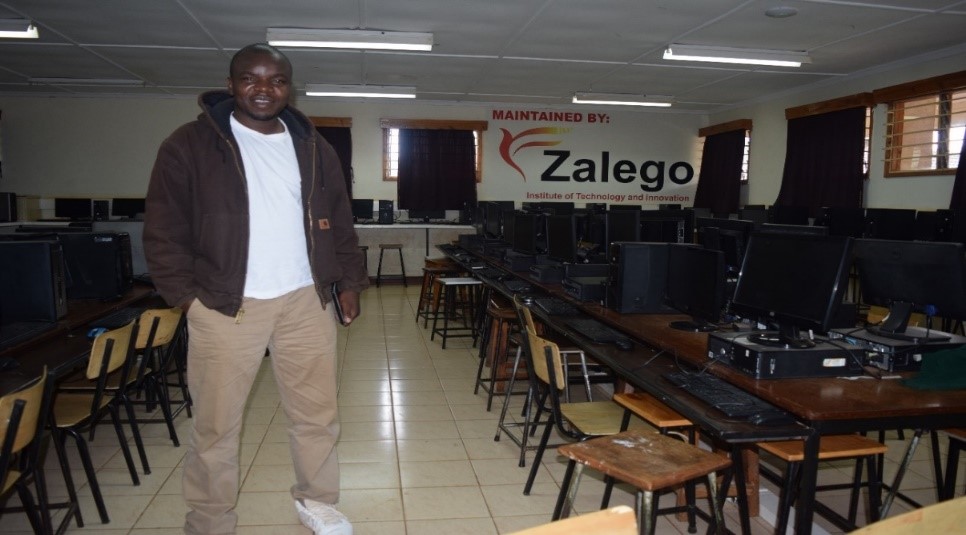 Mr. Wanyonyi Waswa in one of the Computer Labs at Alliance Girls High School
The School has gone beyond using the Internet for basic use such as communication, researching for assignments to create solutions. Mr. Waswa cites that robotics is one of the areas that the School has been recently exploring. Using an applied teaching approach, students are given exposure by participating in various competitions to apply their skills in the real world. The Internet has been a key facilitator for their research.
"Currently we are emphasizing on Science, Technology, Engineering, Arts and Mathematics (STEAM) and for us to get content which we cannot get in local text books, we have to visit some sites that are teaching about STEAM because the students normally participate in robotics competitions. During the first term this year, we emerged second best at the East Africa First Lego League (FLL) Championship," he said. "We therefore usually require constant Internet connection to get content to learn more in areas such as robotics and coding," he said.
Besides providing reliable and affordable Internet to Schools, one of the other mandates of the Initiatives was to promote use of Educational Resources such as Khan Academy, YouTube for Education, KICD, UNESCO teacher's capacity building content.  So far, YouTube for Education has been the most widely used education at the School. Equipped with two computer labs with a bit over 80 computer, students and teachers use the connected computer labs to access educational resources for supplementary materials in their teaching and learning.
"Most of the teachers use the Internet to download YouTube videos, to teaching a concept which they would like the students to understand properly. They usually use it for Science subjects such Physics and Biology. Using a screen given by Ministry of Education to 114 National Schools in 2016, teachers can stream the video live while teaching and pause to explain further so that students can understand what they are teaching," explained Mr. Waswa.
Mr. Waswa emphasizes on the need to keep up with changing technologies and embed it in teaching. He cites that the SCI offered a platform for learning in the School to be enhanced richly as teachers have used the applied teaching approach to engage students.
 "The 21st Century student you are dealing with is well informed so if the teacher is not up to date, they will be challenged in class. The students I deal with here, are accessing a lot of information when they go home so when they back to school, they ask questions, so the teacher has to keep up to date."