You are here
Why Institutions Should Embrace Cloud Computing
Cloud computing is one of the digital platforms that more Institutions should embrace.  Whether in the education or research field, cloud computing progresses the very fundamentals of learning and research. More choice in education in terms of diversity of courses and method of instruction is being offered in many Kenyan Universities. However, cloud computing is being adopted at a sluggish pace, yet the advantages of cloud computing in education and research is copious. Among the reasons of low uptake of taking cloud services low understanding of cloud computing and at in some cases, ignorance.
Reluctance to adopt cloud technology is mainly due to lack of understanding of what cloud computing actually is, how it can increase productivity, and security concerns. If Institution heads, policy makers and any user of the cloud such as students and researchers can better understand what cloud computing is, then education and research will be transformed. The demand for education and growing number of student population intensifies the need to expand not only the physical spaces of learning, but the digital space remains as critical. This is because research, education and innovation are accelerated by cloud computing. There are however some considerations to be made before shifting to the cloud.
'Cloud Computing' Definition
The 'Cloud' is a model of computation virtual platform that allows access to computing resources via the web. As opposed to having data centers located physically at your Institution to process and store your data, third party data centers usually in offsite locations in geographically disbursed systems can provide the service.
Cloud computing gives access to 3 major areas, software, platform and infrastructure through the service models for cloud computing. The software-as-a service (SaaS) allows an Institution to access applications on the Cloud. It is considered as the most important in education as data and applications can be stored and managed remotely. The platform-as-a-service (PaaS) allows Institution to deploy applications onto the cloud infrastructure. This is especially useful for developers creating applications meant to serve an Institution. Lastly, Infrastructure-as-a Service (IaaS) allows an Institution to access computational resources like storage, processing and networks.
The KENET data centers offer cloud computing using its own community cloud infrastructure as an educational service that can be used to host learning management systems, institution repository system, integrated library system, and the student information center. The service allows member Institutions to manage their services in a secure environment as well as install applications and operating system of their choice.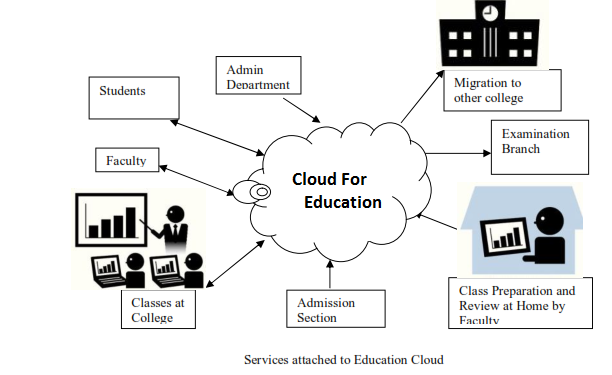 Source: Yadav 2014
Benefits of Cloud in Education
Security: Storing data in the cloud guards against cyberattacks as it gives a backup option and quicker recovery options
Flexibility: Cloud allows scalability and enables end users to access resources from any location and at any time. For instance, distance learning facilities, and learning materials can be accessed anywhere. This proves useful to students who are in remote areas, those with odd hours
Efficiency:  Tasks through the cloud are performed faster and services deployed quicker such as document creation, sharing and management of databases.
Cost saving: Virtualization saves upfront infrastructure cost as it requires less maintenance
Enhance collaboration- Students and researchers record high levels of productivity when collaboration takes place. The cloud creates a space where working together is made possible as more content can be made available even while outside the Institution.
Time Saving: Time spent printing, filing and distribution can be used to find other ways of improving learning outcomes. In addition, the IT staff are not overburdened with maintain hardware