You are here
Why you need to upgrade your Moodle version and how KENET can assist
Posted on:

31 August 2021

By:

admin
Moodle is one of the worldwide used open-source learning management platforms and is currently being used by various learning institutions in Kenya. The currently available release for Moodle is 3.11 with Moodle 4 being expected in December 2021. It is important to ensure that you are running the latest version of Moodle due to the following reasons:
Security: Moodle upgrades include patches for potential security vulnerabilities and bugs. Older versions of Moodle put the institution content and the learner's information at risk and can be easily compromised.
Features: There are more features being developed with the latest Moodle version. If you are running an old version of Moodle, this may limit the features you can have and you may not be able to make the most of the Moodle experience for the faculty and students.
Support: As new features come up with the latest version, moodle developers focus more on newer bug fixes and patch releases rather than handling older version queries. Moodle no longer offers support for older versions of moodle. This
means no more security reviews or other bug fixes by the core developers. Kindly reference the table below on the support available.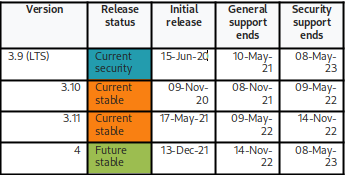 How can KENET assist?
KENET Cloud:

 KENET operates three data centres that offer community cloud to the member institutions. KENET guarantees availability and uptime for services hosted on the KENET community cloud. We take the headache of operating 

a data centre when you move your services to the KENET cloud by providing the leased infrastructure, cooling, power

, 

air conditioning and connectivity. 

Installation and customization: KENET has a technical staff that is well trained and experienced in setting up Moodle LMS and can do the installation of the latest Moodle version and customize Moodle to the preferred institution colours and look.
Migration of Moodle: KENET can assist with the migration of the Moodle LMS to a different infrastructure from the current host. This also includes the upgrade from the current version to the latest version.
Moodle as a Managed Service: Should you be lacking the technical expertise within your institution to manage the Moodle backend, KENET can offer the technical expertise to manage the Moodle LMS backend and you can focus more on the Moodle end users. KENET can take up the  management of the backend that includes the operating system, Moodle upgrades and plugin installation and automated backup of critical files.
Moodle optimization: KENET can assess your current Moodle installation and prepare a report on the recommended changes that will improve Moodle LMS performance. The institution can thereafter take up the role of making the recommended changes or KENET engineers can assist in making the changes.
Backup: KENET can offer leased storage for backup of Moodle critical files and databases. It is critical to ensure that periodic backups are done for the Moodle LMS. In case of a failure or corrupted database, your institution can thereafter recover the required files and databases. KENET can offer the technical expertise to configure automated backups.
If you are interested in pursuing these services or are keen on getting assistance with your Moodle LMS, kindly reach out to Mrs Maureen Musau via
mnjue@kenet.or.ke
or via
support@kenet.or.ke