You are here
Prof. Mbithi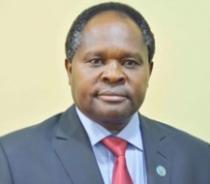 Prof. Peter Mulwa Felix Mbithi is the Vice-Chancellor, at the University of Nairobi and Professor of Veterinary Surgery, University Of Nairobi (UoN). Born in 1956, Prof. Mbithi graduated from the University of Nairobi (UoN) with a Bachelor of Veterinary Medicine (BVM) in 1983 and an MSc. in Clinical Studies in 1985.
In 1987, Prof. Mbithi graduated with a Master of Veterinary Science (M.V.Sc. Veterinary Anesthesiology Radiology and Surgery) from University of Saskatchewan, Canada. Between 1986 and 1987, he did a Surgical Residency – Advanced Surgical Specialty Program at the Veterinary Teaching Hospital, Western College of Veterinary Medicine, University of Saskatchewan, Saskatoon, Canada. In 1995, Prof. Mbithi completed his PhD at UoN. Between 1995 and 2003 he was Chairman, Department of Clinical Studies, in 2003 he was elected as the Dean, Faculty of Veterinary Medicine until he was appointed as the Principal, College of Agriculture and Veterinary Sciences in 2004. 
In 2005 he was competitively appointed as Deputy Vice-Chancellor, Administration and Finance, a position he held until 2015. He was appointed the Vice Chancellor University of Nairobi January 6, 2015. He has supervised MSc students and PhD students and has published extensively in peer-reviewed journals and is a member of several professional organizations. Clinical veterinary medicine and orthopeadic surgery, wounding and traumatology with special interest in lameness, joint surgery and athritides are some of Prof. Mbithi research interests.