You are here
Prof. Richard Kiprono Mibey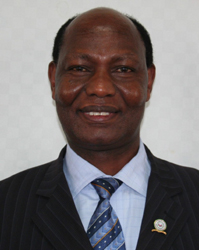 Prof. Richard Kiprono Mibey is the Vice Chancellor of Moi University. From 1986 - 1989, he was a Lecturer in the Department of Botany, University of Nairobi; 1989 - 1996, he was Senior Lecturer in the same Department, before he was promoted to the positions of Associate Professor (1997 - 2001) and Professor 2002.
He has a wealth of Administrative experience. From 1998 - 2000, he was Chairman, Department of Botany, University of Nairobi; 2002 - February, 2004, Principal, Chiromo Campus, University of Nairobi; February 2004 - September 2006, he was the Deputy Vice Chancellor, Administration and Finance, Maseno University; and from September 2006 to the present, he is the Vice Chancellor, Moi University.
In terms of scholarship, Professor Mibey is a recognized world authority on fungal systematic. He is also a world authority on Fungal Taxonomy and Biodiversity Conservation. In that capacity, he has discovered more than 120 species of fungi. He has received several fellowships: DAAD Senior research Fellow; Darwin Fellow in April 1994 - April 1995, UNESCO Fellowship. He is a member of several professionals' organizations and societies. Member, British Mycological Society (BMS); Member, Committee on biodiversity and Conservation; Member, International Association for Plant Taxonomy; and Fellow, World Innovation Foundation.
He attended Sugumerga Primary School and Kericho High School for his early education, before proceeding to Warren Wilson College, Swannanoa, N.C., U.S.A., where he obtained a B.A. in Biology. From there, he went to Appalachian State University; Boone, N.C. for M.Sc. in Biology; and to Oklahoma State University, Stillwater, for an M.Sc. in Plant Pathology and D.Ed. in Agricultural Education and Extension, specializing in Plant Pathology. He also obtained a PhD. in Mycology of the University of Nairobi.